Rent a Weir Tank for onsite Water Collection, Separation & Haul-Away
Continental Carbon Group offers the best Weir Tanks on the market for rent. Featuring a solid steel construction, and your choice of a 10,000 or 18,000 Litre capacity, our weir tanks are the best solution to managing your on-site wastewater needs.  Get peace of mind with a weir tank rental from Continental Carbon.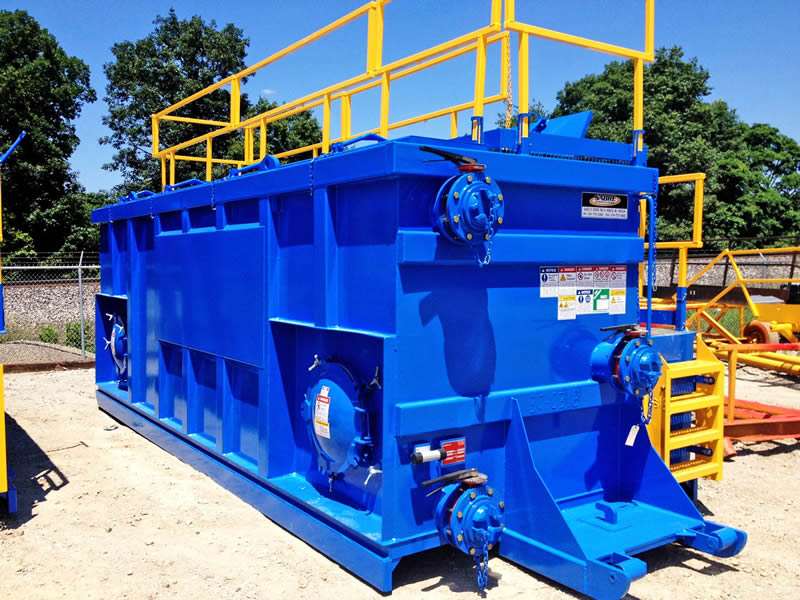 Weir Tanks
Weir tanks offer a simple solution to onsite water management.
Water can be pumped into the tank and suspended solids drop to the bottom
We take care of the delivery and setup so it's ready to use when you need it
We'll haul away the weir tank once it's full. We're a quick phone call away
18,000 Gallow Weir Tank Features
Over and under internal weirs
Safety stairway and platform with guardrail system on top of tank
Constructed on chassis and axles – easily transported
Four 22 inch Manway hatches
Individual flip lids to allow for visual inspections
More sizes are available upon request.
18,000 Gallow Weir Tank Features
Over and under weir process separates water and waste
Residence time dependent on particle size, density and flow rate.  A flow rate of 50 galls per minute (190 Litres/min) will allow for residence time of 6 hours
Floating contaminents (Oil, Liquid Phase Hydrocarbons, Grease) are removed by flotation in the first (back) compartment
Heavier solid (Gravel, Sand, Silt) are removed in the liquid stream in the second compartment prior to the over weir
Some metals are removed with the suspended solids
Recommend first step in any treatment train
Ability to filter particle size 50 NTU's / 225 microns
---
CCG – Lamella Tanks
Lamella Settlement Tanks
CCG Settlement Tanks are high performance and rapidly deployable mobile Lamella Settlement Units. When suspended within water, these units are continuously removing and storing the solids effectively. If used at their typical operating range under gravity alone, the units can capture 95% of mineral-based silica particles down to 18 microns in diameter; along with a small proportion of the finer sized fractions in suspension. Available in a variety of sizes, all have a large treatment capacity and effective settlement area within a relatively small footprint due to the innovative and efficient utilisation of inclined lamella plates. Being fully modular in design, they can be linked in parallel together for larger flows or as part of CCG modular system, creating fully flexible solutions that can cope with great treatment variations within each application.
Main Advantages:
Up to 20 times more efficient than conventional settlement tanks
Large treatment capacity in a minimal site footprint
Manufactured off-site and supplied as a complete unit
Rapidly deployable and easy to operate
No moving parts
No power supply required
Can be used with chemical dosing to improve settling rates
Skid-mounted, lightweight, and compact for ease of transportation and installation
Robust design suitable for harsh environments
Seamlessly links together with other CCG products should multiple pollutants require processing
Typical Applications
Construction
General Construction Activities, Earthworks Movements, Civil Engineering, Open Excavations, Topsoil Stripping, Well-point Dewatering, Culvert Cleaning, Tunnelling, Drilling, Borehole, Coffer Dams, Ground Water, Trenching
Industrial 
Raw Water Treatment, Dissolved Metals, Mining, Vegetable and Fruit Washing, Industrial Cleaning, Food & Drinks Manufacture, Distilleries, Metals Finishing, Recycling/Leachate