Custom Designed & Built Rainwater Harvesting Systems
Rainwater harvesting systems from Continental Carbon are designed to collect and store rainwater for future use.
Our rainwater harvesting systems are built with a catchment area, a conveyance system, and a storage tank.  Systems can also be built to include a pump, water treatment system and fixtures for the use of water.  Depending on the design and level of water treatment and purification, harvested rainwater can be used for outdoor irrigation, domestic purposes, and even potable uses when combined with Continental Carbon's water treatment solutions.
Benefits of rainwater harvesting include:
Adding to municipal water supply:  When large volumes of water are collected it can contribute to lower water bills for municipalities.
Reduces the amount of water entering the sewer/storm water system: Harvesting rainwater helps to protect rivers, watersheds, streams, creeks by minimizing the amount of water entering the sewer /storm water system.
Replenishment of ground water:  Using harvested rainwater for irrigation, or directing overflow into a a garden will helps to refill groundwater sources.
Above Ground Systems
All materials are UV stabilized for long-term outdoor use
Pigmentation in the tank helps to hinder sunlight penetration and inhibits algae growth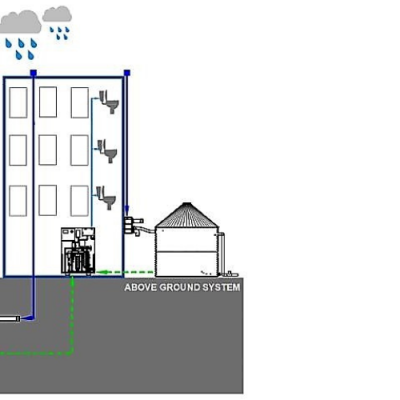 Below Ground Systems
Maximum burial depth of 36″
No water required during back fill procedure
Tanks are designed to buried applications only in non-traffic installations
Tanks are structurally engineered to accommodate repeated filling and emptying cycles of rainwater collection
Unique monolithic design provides super top load strength
Low profile design allows for shallower excavations
May be interconnected easily for increased storage capacity.