The Solution to Hydrogen Sulfide Odours
Continental Carbon Group's PHOENIX® is a state-of-the-art hydrogen sulfide (H2S) removal system. PHOENIX® is simply the most effective means of removing airborne H2S, the most prevalent odorous compound present in wastewater treatment. PHOENIX® radial flow canisters, using water washable CENTAUR® HP carbon combined with our patented segmented reactor design, produce a system that can continuously remove up to 50 ppm of H2S with 99% average efficiency.
THE PHOENIX® PROCESS
The PHOENIX® system works by directing the foul air down through a series of chambers containing the radial flow carbon canisters. As the air passes through the radial carbon beds, the H2S is catalytically converted to H2SO4. The loosely adsorbed and highly water soluble H2SO4 is then washed off with water during the automated water regeneration process, thereby restoring the carbon's capacity for H2S. The system's segmented design allows one chamber to be water regenerated while the rest of the system continues to treat H2S. This delivers a system that has virtually no treatment downtime.
APPLICATIONS
PHOENIX® is ideally suited for municipal wastewater collection system applications such as pump stations and lift stations, as well as wastewater treatment plant processes such as headworks, sludge thickeners, and belt press rooms.
CANISTERS
The specially designed Phoenix canisters are filled with the unique Centaur HP carbon that can be washed in place with potable water. This water wash feature greatly extends the life of the activated carbon, but inevitably over time the adsorptive capacity of the carbon will be lost. When fresh carbon is required, the spent carbon is removed in easy-to-replace canisters that require no vessel entry or contact with the carbon. The ease of carbon replacement with the Phoenix® system provides a huge benefit over other odour control systems that require media change-outs that can be messy and labor intensive.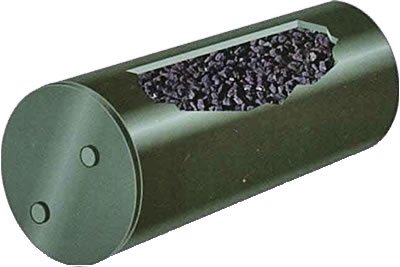 CANISTER BANKS

One bank of canisters is regenerated at a time through the use of a short water-wash procedure. While the one bank is being water regenerated, the others remain on-line. The carbon regeneration system, coupled with the highly refined Centaur HP, greatly increases the operational life of the carbon.

PHOENIX® STANDARD FEATURES
PHOENIX® reactor vessel, polypropylene construction with UV inhibitor
Set of radial carbon canisters
Automatic water regeneration package, NEMA 4X
FRP fan with 480 V/3phase/60 Hz TEFC motor
Transition ductwork
Flow control damper
Grease filter/mist eliminator
Pressure differential indicator
OPTIONAL FEATURES
Sound attenuation
Explosion-proof package
Fan motor starter/control panel with ..mounting stand
Skid mounting (up to P-10000 model)
FEATURES AND BENEFITS
Ease of installation and low maintenance
Corrosion resistance
Continuous treatment and minimal operator attention required
Smaller physical size to treat equivalent air flow, resulting in significantly lower capital and installation costs
Carbon can be regenerated with water for a long operational life, resulting in significantly lower operating costs
No chemical usage or storage required
No vessel entry required and no direct contact with carbon required
System can continue to operate during carbon regeneration
Spent carbon consists of easy-to-replace canisters
Ability to economically treat H2S levels up to 50ppm and beyond to low/undetectable levels
Optional automated operation