DESCRIPTION:
CCG's Filter Sand is naturaly occuring, graded and wash sand thats is high in silica and low in calcium. CCG provides sand in all ranges from 0.25mm to 0.50mm and 1.20mm to 1.60mm. Sand is used for filtration of sediments in a stand alone vessel or can be used as a mix in multi media filters as well.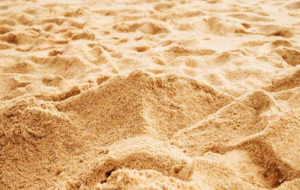 APPLICATIONS:
For treatment of sediments. The media can also be used as a stand-alone treatment process or upstream of other filtration processes and media such as reverse osmosis, activated carbon and resins. Sand can also be used in multi media filters.
TYPICAL PROPERTIES:
Media Type: Granular
Active Ingredient: Silica
Bed Depth: 18-30
Service Flow rate: 3-5 gpm/ft²
Backwash Flow rate: 15-20 gpm/ft²
Volume: Bulk Density: 100 lbs/ ft³
Lbs of Active Media (per ft³): 100
FEATURES:
It is made up of robust material that will not deteriorate no matter how often it is used.
Certified product by NSF/ANSI standard 61.
Disposability is extremely simple.